Northwestern Senior to Enter Medical-Graduate Program
Felix Richter, currently a senior at NU, has worked in Professor Dravid's lab for over 3 years. He is currently applying to MD-PhD joint degree programs and has received interviews at Baylor College of Medicine, University of Illinois at Chicago, Harvard, New York University, Tufts, University of Chicago, Northwestern University and University of Colorado, Denver. He will make a decision on what school he will attend in April.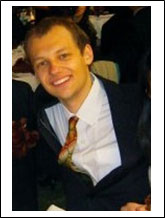 Read more about Felix's work here.